Updates for 2008
Oct. 22/08
I asked Eric to pass this site on to a school Mom who was interested in the girls adoption stories and he asked me if anyone still came to this site. He was surprised to hear that it's still in circulation and that we still have a big following. Blogs are taking over in popularity. Anyways, I've always assumed by the feedback I get that this site is still linked on adoption list sites and it's mostly other adoptive families visiting. Occasionally I'll refer to the site to family or friends and they don't seem to visit here much anymore, or haven't kept the link. My Mom still comes here :) Anyways, when the baby's referral comes in, the ones who lost our link will be the ones scrambling to find the site to see his/her pictures!
Nothing too new to report, the Halloween season is upon us. We're trick or treating in town this weekend and then having a get together for FCC families in the evening. Eric and I got pirate/hippie wigs and it's too hilarious. I'll post a picture for sure. We just got an invite to a Halloween dance at Haley and Hanna's school, the girls have been wanting to see their school so they'll be thrilled to hear about the dance. The girls school is having a movie night this week and they're hyped about that. They both have Halloween parties at school and a parade. I miss so much of the fun, stuck at work.
Our agency has just opened up a program with Vietnam and we were notified yesterday that we can get on the list as a China waiting family. We have one week to decide and get our fee in. They are giving families one week to get in line according to their group numbers. After that you'd join at the end of the line. It's sure tempting to be in both lines. My heart is stuck on China. The odds of a boy would greatly increase with Vietnam. You can't choose sex there. I'd assume since we have two girls we'd be much more likely to get a son. Like I said very tempting. Eric says he's fine to just keep waiting. I think he heard 'all new documents, homestudy update, whole new dossier and new immigration application' and then pretty much zoned out :) They didn't tell us how long the other wait would be or what age the children would be, it's a new program for them too.
Ok, back to work. Shelley
Oct. 3/08
1st, there is no word on the baby. I have been dreaming almost nightly about my son that is 17mo. with the chubbiest cheeks ever and black hair that sticks straight up. He feels pretty darn good in my dreams. Matches have been made up to Feb. 15/06, we're May 8/06. There are 82 log in dates before ours. We've put some chocolate stones in a jar and are taking some out with each batch of referrals now. I thought having something real for the girls to be a part of would help them understand how much longer. They still tell people they're getting a new baby sister or brother. It amazes me that their faith never wavers.
September was one heck of a month. Phew. We're through it. Kids are both doing great in school. They like their teachers and happy to be with their friends. Lili is bummed at the lack of work in Grade one. She was hoping for some challenging work and homework. Some days she comes home and tells me what they did for the day and rolls her eyes. The other day as she was telling me about Ed (they turn the letter 'e' into a little guy with eyes and hair) and she sighed and said 'Mom, I'm going seriously crazy!'. We just keep telling her it will get better and to find joy in the fun stuff. There was a meeting at the school the other night for parents to go and hear about how they were teaching the kids to read, I went and their program was amazing, and the teachers are fabulous. I feel blessed that Lili is with them. AND, I can see that their methods are very young for Lili and I can see now why she is frustrated. Hopefully she'll settle in and accept things the way they are, as she did last year in Kindergarten. Fei on the other hand loves school. We had our reservations and fears about her going, but so far so good. There was some disturbance in the beginning, we were told she had very poor cloakroom etiquette. Apparently one of the boys was putting his coat on her hook and she was fighting with him about it. There were also another incident with another boy sticking his tongue out at her, on further questioning it turns out he was simply putting blocks together randomly and not doing color patterns so Miss Fei was attempting to straighten him out ;) Gotta' just love some of her issues. Then we heard that when she was supposed to be washing her hands she was actually going down the hall to say 'hey' to Lili in her class. Sigh. Then lastly there was the day her teacher caught her and a friend running down the hallway screaming like banshees and then running away from their teacher. Such proud moments. Funny though. We haven't heard anything this week. Parent/Teacher meetings are next week, fingers crossed for a good report. We've been told that it's likely Fei will need a TA, but at this point there doesn't seem to be any need. Scholastically she is doing great. Not quite reading but so close. She's not been too interested but Lili told her that Mrs. Thomas puts the days events on the chalk board and if you can read you'll know ahead of the other kids what is happening for the day, suddenly Fei is bringing me books and attempting to read. Yay!!
| | |
| --- | --- |
| | |
Along with school was the start of dance. They have three of their FCC friends in class with them and one other Asian child from their class last year. There are 8 kids in the class and six of them are Asian. So cute!! Who would have thought a Highland class in our wee town would ever look like that?! Both girls also started private piano lessons. They are still with Mulberry and Kathy is teaching them. They're thrilled, they just adore her. I'm so surprised at how fast both of them are learning. Fei seems to have better control of her hands, but still isn't reading music. Lili has a firmer grasp of what she is supposed to be doing with her hands but has a harder time manipulating her fingers. They sit at the piano together and help each other. So sweet. Lili reads Fei's homework book for her, but Kathy writes in cursive so it sometimes takes them a while to figure out what it says. I've tried to help but they tell me they don't need me. My babies are getting so grown up! We bought the girls a piano, it took five guys and three hours to get it into the house. Eric told me to be sure of where I wanted it because it's never moving again ;) It took quite a while and we looked at a LOT of pianos, so we were quite delighted when we found 'the one'.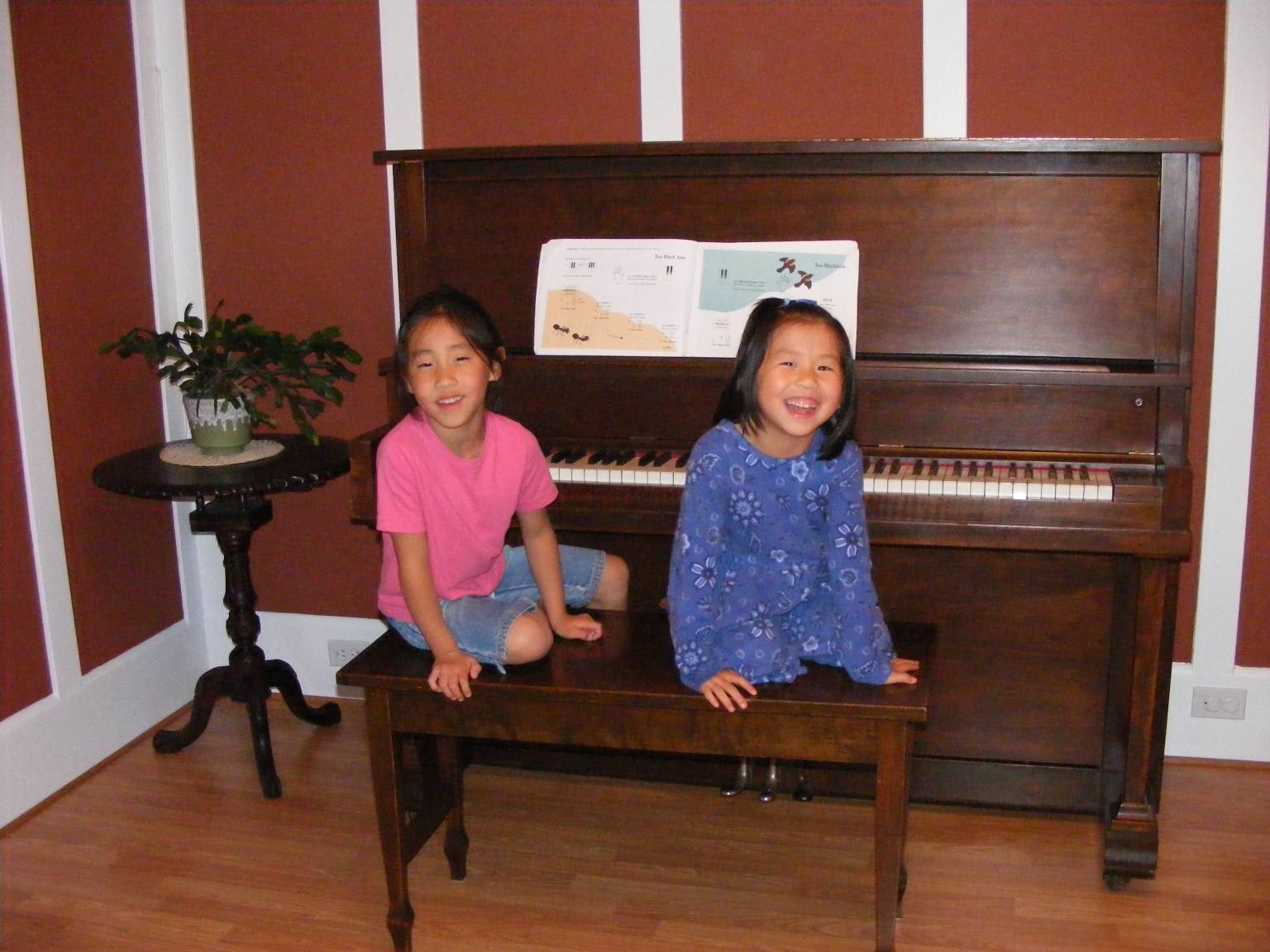 Ok, now the really exciting news....the upstairs bathrooms are working!!! It's been literally life altering. I'm just so happy. I love, love, love my tub. The girls bathroom is small and they aren't as excited as I am with mine. We've all moved upstairs again. Lili is in her own room. She is struggling a bit and is wandering at night again checking on me. We've told her she can sleep in our room but she is still wanting to try being in her room. Fei still didn't want to go into her old room and is holding out for the yellow one, but she can't sleep in there until the floor is done so she is also in Lili's room. I can actually lock a door and have a bath without kids, dog and cats. It's simply heavenly. A bit more molding, painting and electrical to hook up to be done. I only care that there is hot water in the tub and a flushing toilet <grin>.
| | |
| --- | --- |
| | |
The girlies got a kitten this summer. Her name is Jenny. She's very sweet and they are so in love with her. We managed to take her camping for most of August and half of Sept. So she is nicely harness and leash trained. I never would have thought that was possible. She is quite adventurous and we are able to take her out and about anywhere we go. She creates quite a stir when she is out. Apparently I'm not the only one who didn't know you can leash train a cat or take them out without them freaking. She does get freaked now and then but overall not too badly. She wasn't totally thrilled with being at the ocean as you can see by her eyes in the photo below. She is 10wks in the middle photo, taken right after we brought her home. We had hoped that Jenny would be company for Lacie who has really been missing Kady. It took a while but the two of them are very close. They play often, sleep together and follow each other around. Jenny is still as indoor cat. We're not sure if things will stay that way or not but for now it's working out great. Maoduke who is almost never around, outdoor cat to the max, wasn't too thrilled with Jenny but even he is softening a bit and allowing her to bat at his tail now and then. New babies are just so much fun.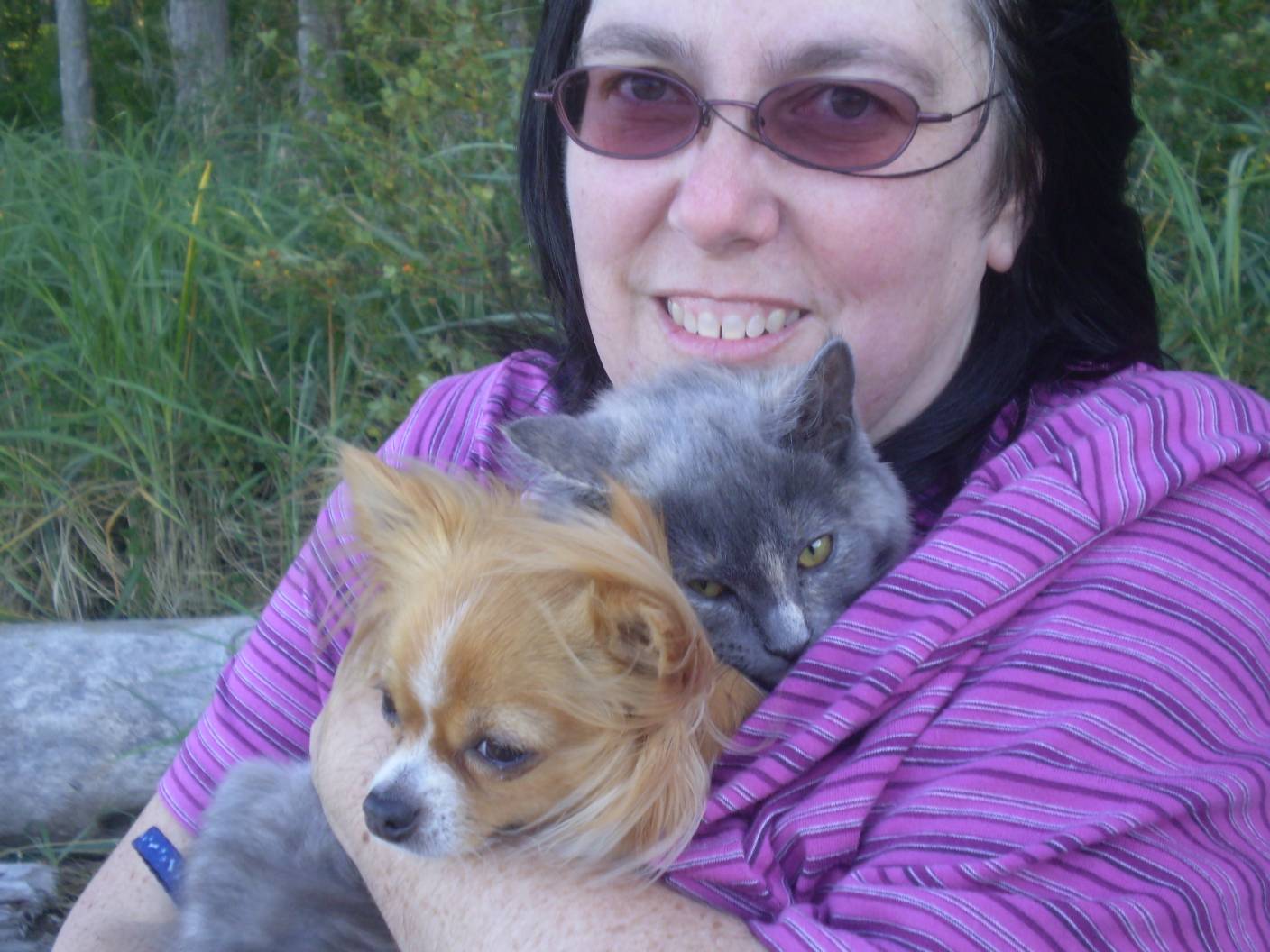 Oh, oh, more fun stuff, Eric found me a camper for his truck (well, my truck now). He isn't as thrilled to camp as much as I like to, so I can head out with the camper without him now. It's big but manageable. It's a 1981 Vanguard 11.5'. No shower but the girls and I will manage just fine. Eric has been getting it set up on his truck and making it more user friendly for me. Very exciting. It will allow us to get to some places that the big trailer just couldn't go as well. I'm even thinking it would be fabulous for road trips. We're hoping for one more trip out for Thanksgiving. The truck below isn't 'my' white ford, but a crappy thing that came with the camper, it needs a new home still.
| | |
| --- | --- |
| | |
I took the girls camping in a tent to Miracle Beach with some friends. The whole right of passage to camping for the girls sort of thing. Eric thought I was nuts, but he helped pack us up to go anyways. I hadn't been tenting in 16 years! I bought a porta-potti which greatly helped the experience. It was fabulous the first night. We were very cozy in the tent and using a corner of the table as our kitchen was fun. We brought Lacie who also quite liked the tent. We tried having Jenny in the tent while in the backyard, but cats can climb tents! Right to the top. After removing her from the walls a few times we gave up. The second night camping was torrential rain and we had a wee river of water running in the corner of the tent, there was simply too much water converging on that corner from our friends awning and table tent. We debated going home as the girls canvas bed was soaked, but since my air bed was vinyl we crawled in together and toughed it out. We managed ok in the rain. We were glad to get home. Tenting is a lot of work and next time it will be for more than two days to make it more worthwhile. Eric tried sleeping in the tent with us in the backyard but he hated it. The girls and I slept out for a few nights as a trial before heading out to do 'real camping'.
| | |
| --- | --- |
| | |
Eric went in a dirt bike race last weekend. I don't think he particularly liked the racing part. He said he'd never do it again. No details were shared with me. He'll be happy to head out this weekend without the stress.
Ok, writing this was easy, now to go load some photos in. This page is getting so big that it's hard to load. I'd love to share more photos but I'm limited per page. Likely I should consider moving to a blog so I can share more photos. That would take time and thought and I just don't have enough time to be on the computer. It's a slow day at work today, hence the update.
Love Shelley
July 25/08
It's been a while since the last update. We've been busy. First was the Alaska cruise, which was fabulous. All of us had a great time. I might have preferred a bit more time to relax. There was lots for the kids to do and they went daily to club HAL in the evenings and a few day visits. They basically had a party every night with the friends they made and Eric and I got an hour and 45mins. on our own. I'm sad to admit that a couple of those nights we snuck back to our room and napped. How life changes. The food was lovely, it was nice traveling with Mom and Dad. Our room steward was Victor and he was awesome with the kids. He made towel animals every night and always heard them coming and going and would call out to them from whichever room he was working in. Every time we left our room he went and tidied it. I learned really quickly to put everything away as I went or when we got back he'd have done it for me. That was hard to get used to, but halfway through I was starting to enjoy it. The girls did a fair amount of swimming on the lido deck and are both getting quite comfortable in the water. I even got sunburned on the first day at sea! Lili and I did get seasick the first day, Lili actually turned green...I thought that only happened in the cartoons! She had it the worst, I felt better if I just lay down. Her wee stomach emptied everywhere. Fei said she felt sick for Lili. The day trips on land were fun. We managed to do a couple tours, went to the summit and back into Canada in Skagway. Boy was that confusing to explain to the kids. We took a tram up Mt. Roberts in Jeauno and played in the snow. We met KD the Klondike dog in Ketchikan. Lili has decided she looked like a wolf and her wolf infatuation grew some more. Eric was taking her up on deck at night so she and her new stuffed wolf (malamute) could howl at the moon and howl to let Kady's wolf birth family that she was in a good home with Lili. What were the odds that the dog we met in Alaska would have the same name as our sweet Kady. Great photo opportunities everywhere, it was really hard to pick 12 for here! One of the sea days we cruised through Glacier Bay and it was so beautiful. The girls put pillows in the window sill of our room (which was quite wide) and they would just lay in there and watch. So cool.
| | | |
| --- | --- | --- |
| | | |
| | | |
| | | |
| | | |
We're all gung ho about going cruising again. I'm already eyeing up Mexican Rivera cruises for Jan. or Feb. it's too soon to book that far off though. I know there's really no chance of a referral then, but just in case things change, speed up, I want to be here and ready. It will be the 3rd most exciting moment of my life, I think/fantasize about our next gotcha moment all the time. For all the adoptive folks who have a problem with the term 'gotcha', we don't, it's just a word, it's cute and our kids love it. There are far more serious things in the world to worry about. Fei knows her gotcha day is in a couple weeks (Aug. 15) and she's really excited. Really we have no great tradition yet. We look at photos and video and talk about the day we met and how happy we are that they're with us. We let them decide what's for dinner too. Can't wait until they ask for something other than macaroni.
The school year ended. Phew. Lili was concerned that she didn't pass. I have no clue why she was worried about it, but until her report card came and I showed her the box that said she was registered for Grade 1 she just didn't believe me that she was doing great. There was so much crammed into the end of the school year for both schools. We were shocked and next year we'll be a little better prepared. Along with all the end of the year activity came their music and dance recitals. Both required some time, energy and anxiety. They did fabulously at both. We were so proud of them. So, Lili goes to grade 1 and Fei to kindergarten and both of them in the same school!!! That will be life altering and so welcome. We have a few years to just settle into Alex Aitken. If it really is two more years until we have the baby then she'll be going to preschool when Lili moves to middle school. We could possibly end up with three different schools. Yikes. Lili will be moving to piano lessons this fall. We're not too sure about Fei yet, I think she could benefit from repeating the music builders class again. She isn't quite reading music yet. Will have to meet with the music school and decide in the fall. They both loved highland dancing with Shelley Cassidy and are very excited to be going again in Sept.
Ok, so now we're a bit more current. We've been doing a lot of camping. We are home this weekend and hopefully that's the only one :) We just did a 11 day jaunt across BC and back. We went to Kootenay National Park and Radium Hot Springs as our farthest point and assorted places there and back. The trip was great. I really enjoy camping with our friends and the chaos and it was so nice to have just our family out there. We played games every night before bed by lantern. So cool. The hot springs were awesome, finally swimming where the girls didn't turn blue. I'd go there again in a flash. We took Miss Lacie and she also did very well camping. She usually does, but we've never taken her for so long before. We saw lots of wildlife and too many lakes and rivers to count. There are 287 pictures so again it is so hard to pick a few. We stopped and visited my friend Denise (known her since grade 2) and had a nice visit but short, the campground she was in didn't allow dogs (like Lacie can actually be called a dog) anyways, it was 36 so we cut our visit short, too hot for her in the trailer. We've been RV'ing for 15 years and we've never hooked up. We hooked up for most of this last trip and oh boy could I get used to that. We didn't care for how close everyone was, but the hook ups were lovely. We started in Bridal Falls at Camperland and the girls thought that was the best campsite ever. Eric and I weren't sure if it could even be called a 'campsite', resort maybe. There was a pool and icecream at the full service store so the girls were blinded by that part.
Tomorrow we're off to Victoria with FCC families to see the Bug Zoo, dinner out and then Luminara, summer lantern festival. We're cramming as much summer fun in as we can before the girlies are back to school. The kids are sleeping over at Gramma's so Eric and I are having a date night. Very rare, very exciting.
Love Shelley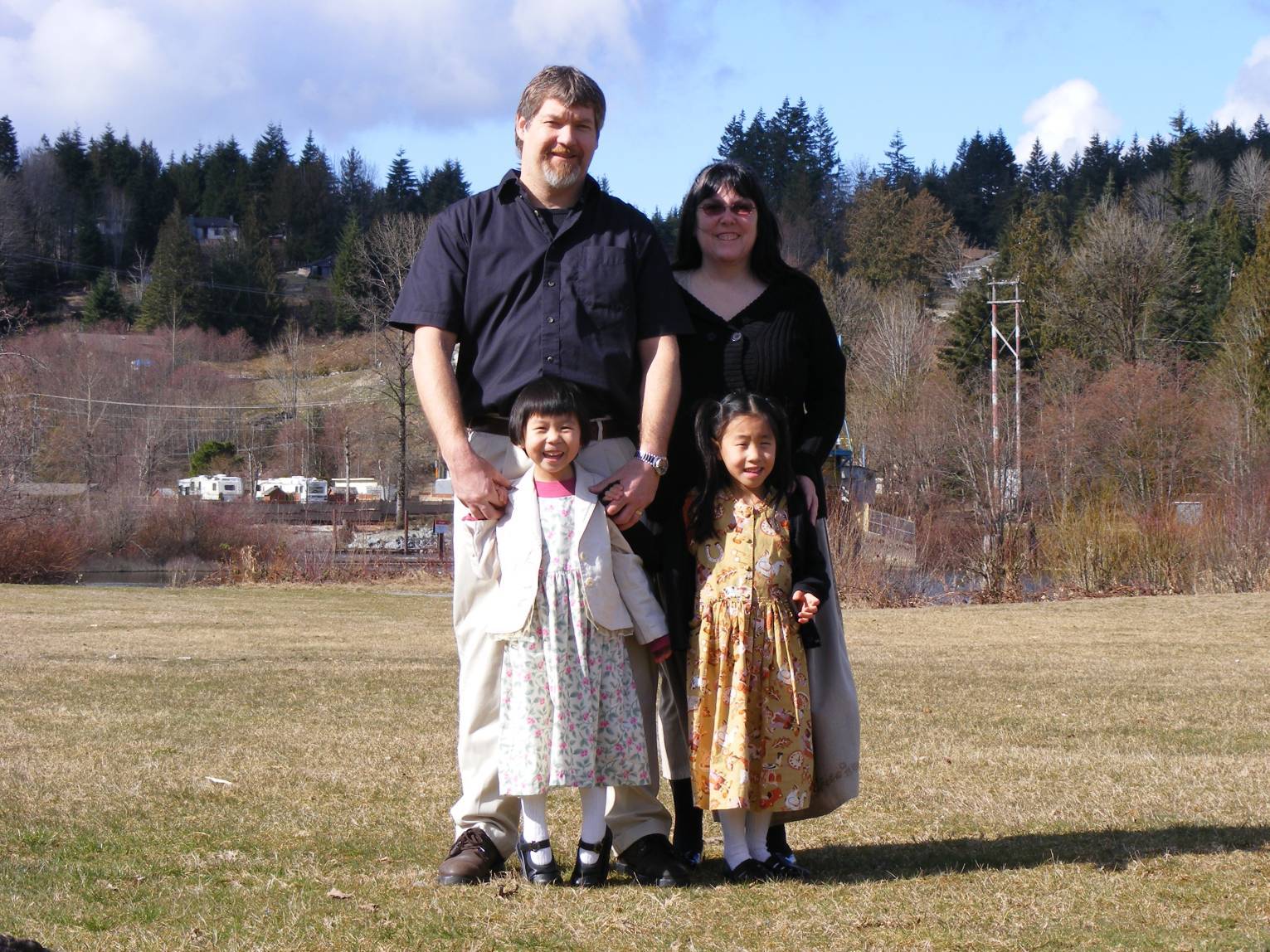 We clean up ok, when we have to, on our way to My Auntie Anita's funeral.
March 31/08
Spring is here, at least time is moving fast while we're stuck in this horrible wait for the baby. It's simply painful to not know anything about our newest family member, or have any clue if she/he is coming anytime this year. The woman who helped us at Sunrise to bring Lili and Fei home and who worked with us to apply for the baby, Marg, is retiring. I read the update from our agency and then bawled. I'm already nervous to not have Children's Bridge behind us, now we're not going to have Marg either. Brutal. We haven't met any of the new staff. My confidence level is waning. It's getting harder and harder to have faith that there is a baby at the end of this wait.
Lili's Scooby party was great, there were 16 kids and the presents went missing, so that was our mystery, no bad guys, monsters or ghosts. No one was scared :)
We had to say goodbye to our Kady Kades. She was 15 and had a bladder disease, her hips were gone, she was deaf, and she needed me through the night, she was a sweet, sweet girl right to the end. Bawl. Sniff. This is hard to write. She is very much missed. The house is noticeably quieter. Lili is sad and talks of her often, Fei isn't really sure why she hasn't come home yet and keeps reminding us we have to go pick her up. MaoDuke slept with her so he was out of sorts for quite a while. Miss Lacie has become more playful, taking up that extra time for herself. We miss you Miss Kady the Lady.
The girls are back to school after their Spring break, which wasn't nearly long enough. We camped at Goldstream for the Easter weekend. Man-O-Man was that cold. The trailer just never really gets cozy when it's snowing, freezing and hailing. Wicked. We ran out of power! I guess having the heater on non stop for four days was too much. We didn't run out of water though :) We had planned a five night trip but cut it short when the power was dying. It was nice to get back to camping, may have been a bit too early though. Mittens while bike riding is just odd. Never say never, we bought a 13" tv/dvd for the trailer. It was awesome to watch movies after the girls went to bed. Plus, we could sleep a while longer in the morning if we plunked a movie in for them. It's all good. The work Eric did to make the unit more user friendly was awesome. Mom and Dad came out and spent Easter Sunday with us, we went to Butchart gardens and hunted for clay bunnies. Which was a lot of fun. There was surprisingly a lot of spring bloom there already too. On Sunday night we met the Savjords for dinner at Mings. We had a short but lovely catch up. The girls were all so happy to see each other. We have to make an effort to get them together for a weekend soon.
| | |
| --- | --- |
| | |
| | |
| --- | --- |
| | |
Look what my new camera can do - super close-ups! These are Lili's beautiful black eyes. Dad and I were watching a fellow take close-ups of the flowers with his camera and we played with mine to see if it would work. Oh the fun I could have with more time!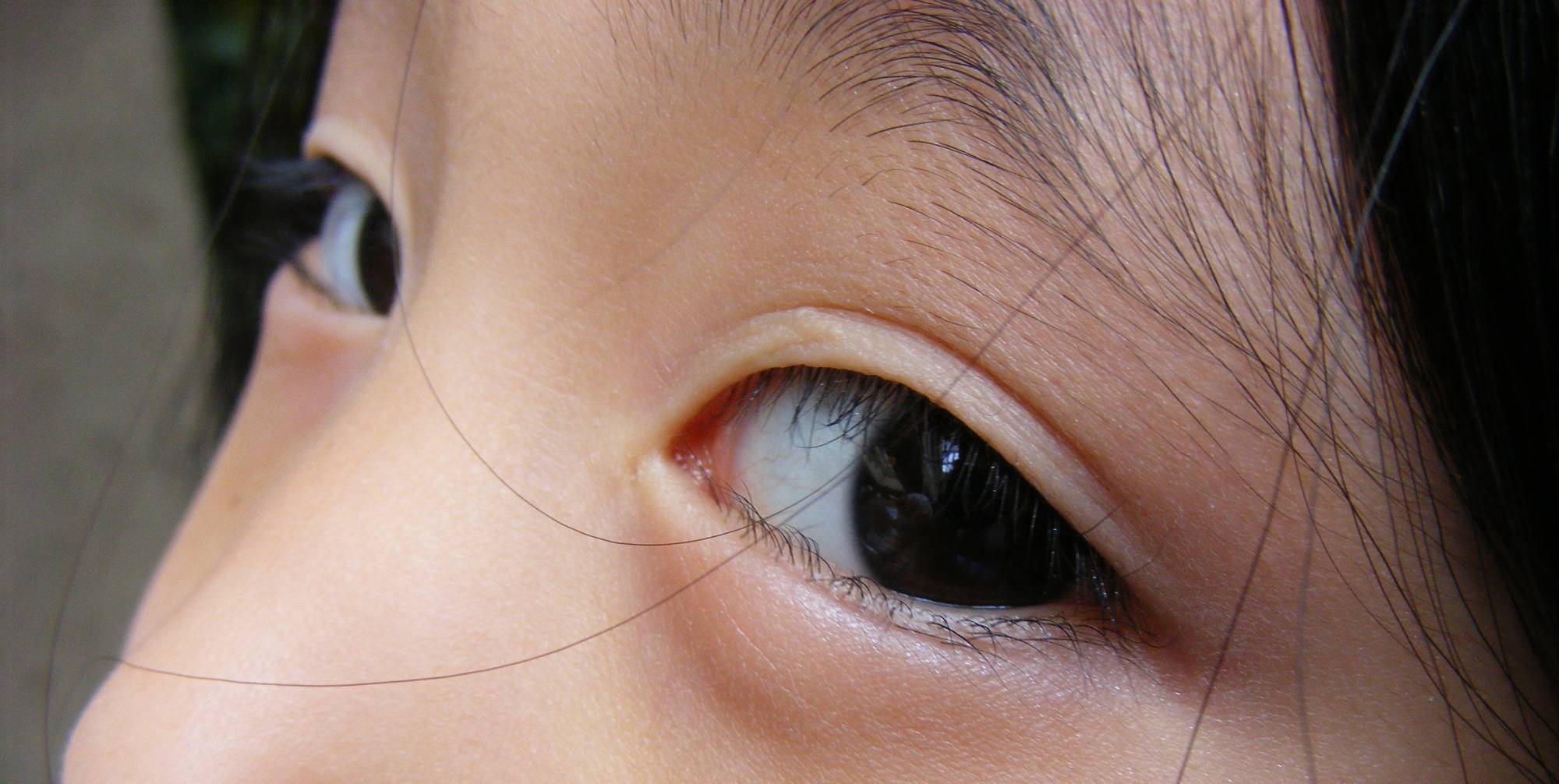 I packed lovely dresses for all of us (well, not Eric of course) to wear on Easter while we strolled the gardens, but it was too cold and wet so we wore our camping gear. I was upset that we didn't get Easter pictures (family tradition) so when we were all dressed up to go to Rosa's Birthday party I got the girlies to pose in front of the Easter mantle that we've been too busy (lazy) to take down. I found all the lilac at the VV boutique, except for Lacies, her sweater came from Pets Smart. Eric refused to wear lilac so he's not in the Easter family photos this year. I asked him later if he'd wear royal purple and he scowled, didn't say no though, so I'll hunt for a purple shirt for him. The combo will work for the cruise to Alaska that is coming right up. I keep planning things for off in the future and it keeps zipping right up.
Swimming lessons start again tomorrow. Eric bought the girls goggles with raspberry flowers on them. Too cute. Will have to get a picture of that. Lili will be getting lessons during school in April, so she'll be at the pool for lessons four days a week this month. I'm guessing she'll be ready to take a break after this month! She is hyped that she gets to go to the pool in the school bus tomorrow. Her first field trip on a school bus. Never underestimate how exciting some of these things are! Telling Fei she gets to do these things in Kindergarten next year isn't cutting it anymore. She is ready NOW.
Ok, signing off for now, Love Shelley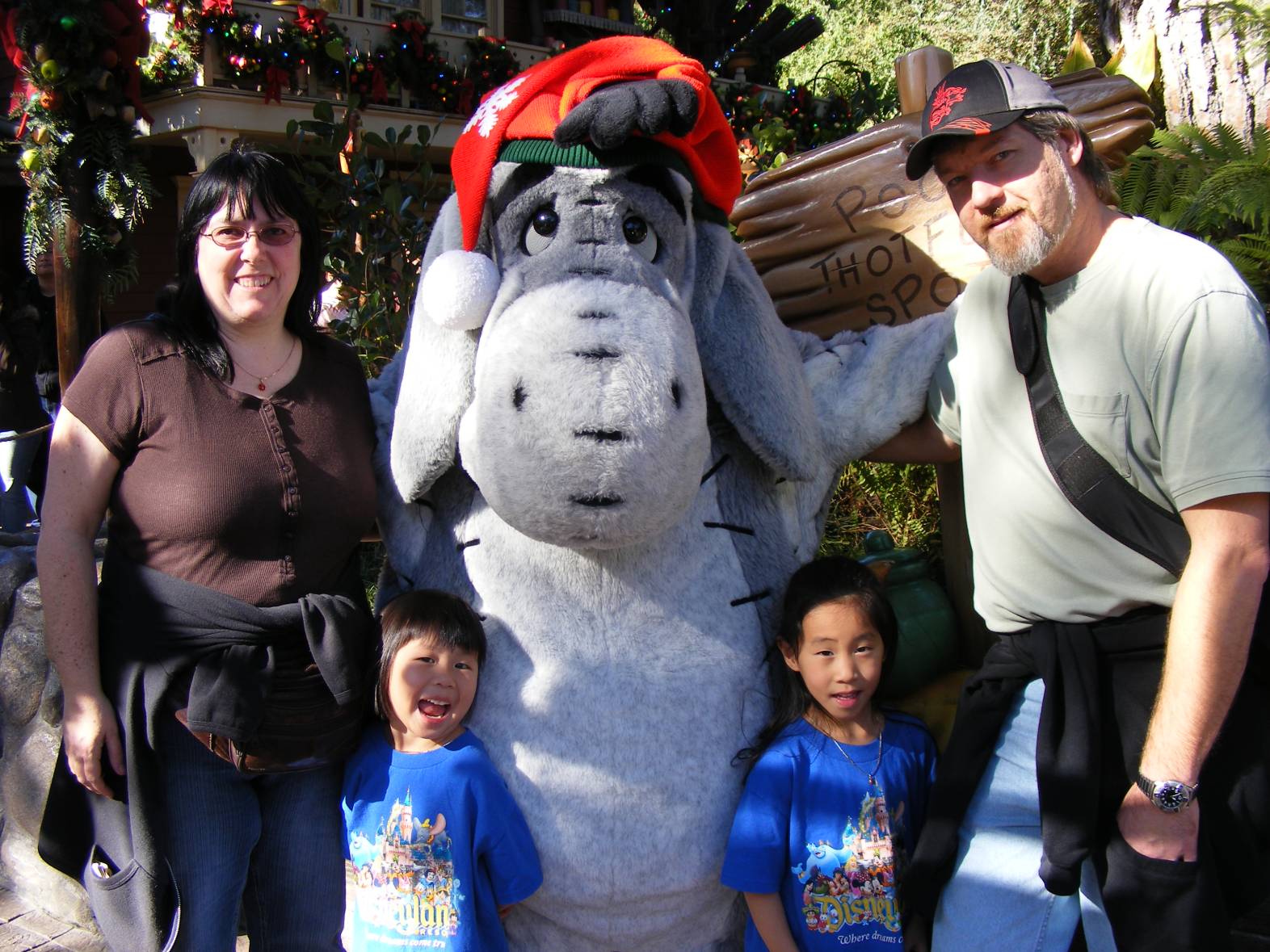 Feb. 28/2008
Busy, busy time of year. No real idea of where to start. First the last update in 2007 mentioned our Disneyland trip. #2 trip with the kids was awesome, even better than the 1st trip. The kids are already asking when we can go again. They both did everything they were allowed to do! The Christmas part was beautiful. The treasure hunt was an absolute high light, kids hunting for treasure boxes hidden in the attractions, getting pockets full of gems, marching through Disneyland behind our guide with kazoos (yes, Eric did this too) and finally ending up in Mickey's house, showing him the map, the treasure and telling him all about the experience, he high fived them and we got a family photo. So worth it. The kids went full steam all day, every day. Mom bought the girlies hot pink dresses to wear in Disneyland and they had a riot being called 'Princess' all day. The weather was a lot cooler but there was no rain, so it was all good. They did great in the car again, and the extra side trip to get there took a whole extra day, they both like road trips, just like their Dad. I sadly was the biggest complainer in the car. Washington State was in a state of emergency with the flooding and we had to skirt the I-5 and travel the 90 down. Just a little scary with the winter conditions.
Once we got home, the kids were back into the school Christmas stuff full swing. Much fun was had by all. The concerts were very sweet. We all enjoyed a few days at home and then right back to the busy schedule. Already can't wait for summer holidays to get here. Chinese New Year was celebrated big time at our house this year, I think we can safely say it was a bigger deal than Christmas. Which has been our goal and we were very pleased with the celebrations this year. The kids both had events at their schools. Eric took chow mein into Fei's school again, and they had our lion head there to march around with. Lili's class went to watch their big buddies do a shadow puppet show. Our local FCC group had a wonderful party at the Silver Bridge. It was nicely decorated, the kids all took turns being the front of the lion and the dinner was great. We're hoping to repeat that party next year. We ended the parties with the Victoria FCC party, which wasn't as great as usual, but still fun. Can't imagine why someone thought it'd be a good idea for a news cameraman to be there. We weren't too impressed by that. Lili was on the news for a couple seconds. Fei has already had her 5th Birthday and party! My wee baby is already 5...moan. She had a teddy bear tea party and spa. The bears all enjoyed getting their nails, hair and make-up done. As well as a bathing station and some new jewelry to match their girls. Very cute. Then we moved upstairs for a tea party, we actually got 15 little girls at the dinning room table! Lili's Scooby Doo party is next Thursday. Still trying to figure out a non scary Scooby mystery for the kids. I have lots of ideas of course.
| | |
| --- | --- |
| | |
The girls both started swimming lessons in Jan. They were terrified. In two months they're both already swimming. They love the lessons and are super excited that they're swimming. They're off for March and will start back in April. This summer will be very different at the water :) They also asked to start Highland dancing, dragging them to all the Kathy White shows finally paid off. So, they're with Shelley Cassidy and so far they've only had three classes. Lili loves it already, she just grins during the class. Fei is finding it hard and isn't too thrilled to be there yet. They've agreed to stay until end of June. Fei might be a ballet girl.
We're going to camp for the Easter long weekend. Earliest we've ever camped with the kidlets. Eric has been busy putting the new countertop/table and sink into the trailer. It came with a full size house sink that used too much water. We're still boondocking. The new unit isn't really set up yet for more than a couple days. Eric put four batteries in last year, which has helped tremendously. Now, we need to get more water in there. So, for Easter we're planning to go to Butchart gardens and hunt for the clay bunnies. We've never gone, but it sounds fun. When I was a kid my parents would put glosset raisins on the floor and tell us the Easter Bunny pooed. Eric and I after MUCH deliberation decided to go ahead with the tradition (their cousins do too). We think it's gross, but the kids get a major kick out of putting news paper down every where they think he might go. Of course now with Lacie, we worry she'll pee on the paper or eat the chocolate. Anyways...We were driving into town the other day and Fei says "Mom, remember the raisins the bunny left last year?" Lili pipes in right away "the ones that he POOED". I laughed and said "guys, do you really believe a bunny comes in our house and poos chocolate raisins?" the answer from Lili was "no (laughing) we think he just places them around to look like he pooed". Eric and I were howling laughing. So, not the answer I was hoping for. Then I asked how big the Easter Bunny was and Fei said he was as big as Daddy and Lili concurred. Bizarre.
Still no word on the baby. Eric and I did enter the domestic rush for an Asian baby in the States. We said we'd never pit ourselves against other families or try to sell ourselves. But the long wait is doing crazy things to us. The birth Mom chose a family in the States. We also tried to apply for a four year old girl (in China with hearing problems) and we were told we didn't live in a Metro area. Also that we were with the wrong agency and then as a kicker they told us that we were looking at a five year wait at a minimum. Yikes. It was a bleak day. Called Eric in tears. He suggested pulling our application, I said no, things could still change. There is such an age gap between the baby and the girls now that what difference does it make how long we wait. I can't really imagine three more years though. Mom and I are figuring another 16mo. until referral. We can all live with that.
Love Shelley