Updates for 2007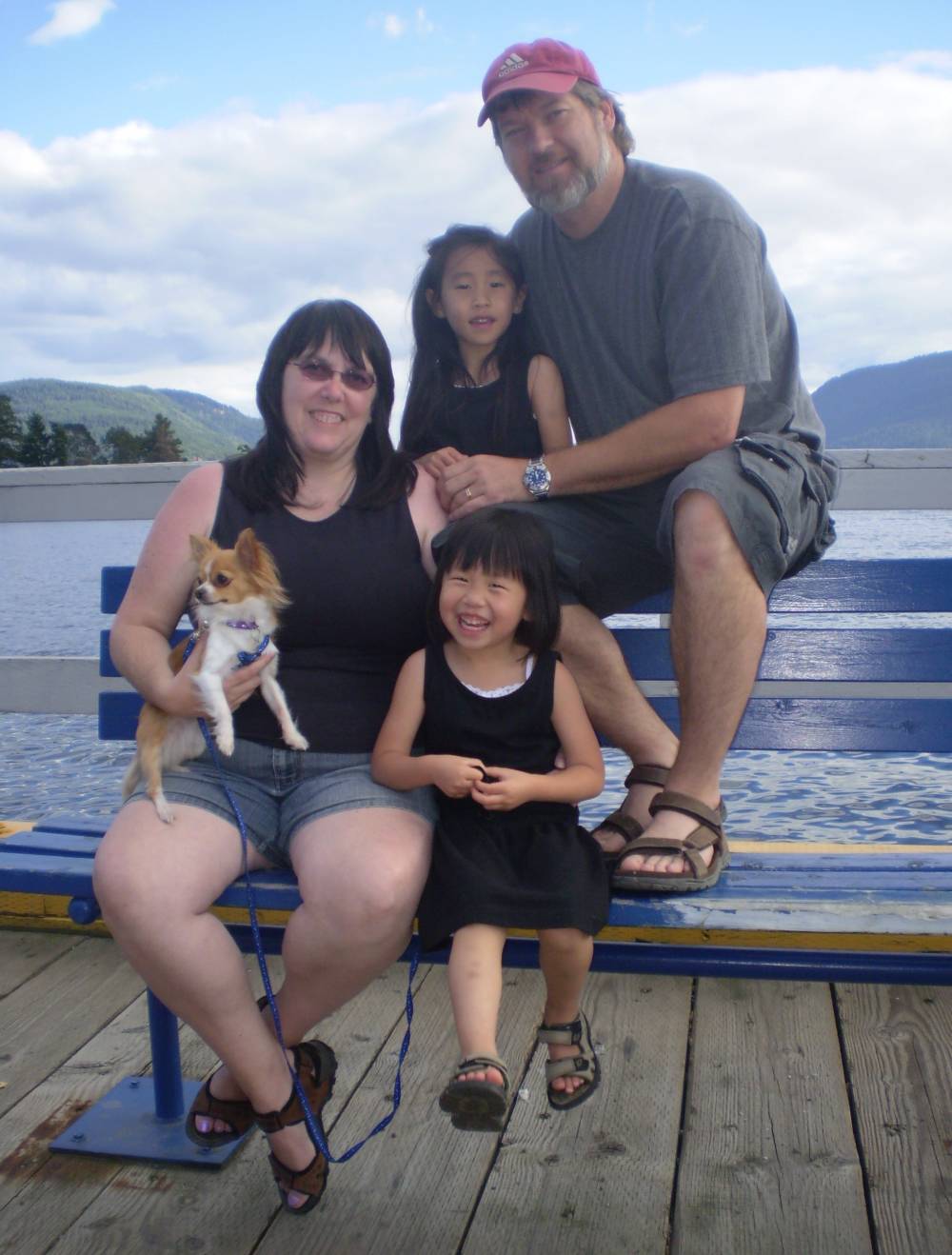 It was time for an updated picture on the 2007 page, this was taken in August on Saltspring.
The Disney picture is now at the bottom.
Dec. 3/2007
I can't believe we're nearing the end of 2007. Shocking. Everyone was right, time does fly by too fast when the kids are little! We've had so much fun with the kids this past year, 4 & 5 have been awesome. We've been enjoying each stage as it comes but I sure wish each stage would last a little longer. They both seem so mature these days. So ready to get away from us and do their own things. We just had a snow weekend and I had hours to myself, I read two novels! The girls kept themselves busy all weekend. They do like the snow, but they still get cold so fast. I remember going out as soon as our stuff was dry when I was a kid, my two seem happy with one small play a day. Maybe they need to be older to truly appreciate a good snow day?
We leave this Thursday for Disneyland again, we're all so excited. The girls know what they're headed for this time. We're going the same week as last year. I booked a Disney tour with a treasure hunt. Really looking forward to that. Mom bought the girls amazing dresses in hot pink, with layers, silky fabric, flounce, pearls, appliqués, lace and flowers. They call them their gowns. I haven't taken pictures of them yet, but I will in Disneyland. I got out the tiaras I bought last year in Disneyland and they are both really excited about having a "Princess" day in Disneyland. I suggested last night that they wear their sandals with the dresses to make the day more comfortable, they both looked at me in horror, so we are packing the dressy black ballet slipper shoes.
The girls made their own calendars in Nov. and they've been counting down the sleeps for everything, Disneyland, when they can start eating chocolates in the morning from their advent calendars, crazy hair day at school and Teddy bear picnic pajama days, dentist teeth cleaning, eye check ups, Little Bear show, play dates and anything else out of the ordinary. The Calendar is such a hit I think we'll keep doing that with them.

School is going well for both of them. The routine is working well. Lili got her first report card and it was awesome :) We're so proud. Fingers crossed they look that great for the rest of the school years! Both girls are gearing up for the Christmas concerts and they're both thrilled about that. Lili is concerned about missing Fei's. Fei will get to see Lili's though as it's in the evening. Actually Lili has to do 4 of them. Two in the day and two in the evening.
Still no word on the baby. It never occurred to us we'd be waiting through another Christmas, but we are and there is nothing to be done about it. We're learning LOTS about being patient. I can't even imagine the excitement when we finally get our referral.
This is our first year of no shopping for anyone except Lili and Fei. It's wonderful. I LOVE it. I finished for the girls a couple weeks ago. It's even all wrapped. No stress, no worries and most importantly no shopping in December!! We saw a commercial for the Bay last night and the premise was that as a child Christmas is about the getting and as an adult Christmas is about the giving. Hmmm... They took some liberties with that commercial, I'll agree with the giving part but maybe more charitable giving is what the expression is meant to convey. I'm hopeful that Lili and Fei will learn not to expect too much from the holiday in the way of toys and will instead learn to enjoy the events, the food and most importantly getting together with friends and family.
Off to get Christmas cards done. Hoping to mail them before we leave. I write a letter every year...maybe I should just direct folks to this site instead.
Love Shelley, Eric, Lili and Fei
Oct. 17/2007
| | |
| --- | --- |
| | |
| Fei's 1st day of 2nd year Preshool 2007, age 4 | Lili's 1st day of Kindergarten 2007, age 5 |
Both girls are nicely settled into their schools and the routine came back easily to us. The toughest part was moving back into the house from the trailer. Lili was tired for the first week, it's a big change going to school every day. Fei is really into the crafts this year and is enjoying making new friends. She is writing all of her letters and surprised me a while back, she knows her lower case letters too! She's learning things from Lili now. When I say 'wow Fei, I didn't know you could do that' she just beams her big magical smile at us. Fei goes with Eric to drop off Lili at kindergarten every day and she really wants to be going there too. Lili has waited a long time to get to big kid school and now that she's there, we've had to deal with her disappointment. Kindergarten is basically the same as preschool and she was hoping for math and reading. She mentioned every day in Sept. that she still hadn't gotten any math homework. I finally went to Staples and got some grade 1 & 2 workbooks for both of them. Now they insist on homework time most evenings. We had our first teacher/parent meeting for Lili and we're all very proud of our Lili, her teacher said she was a teachers dream. Sigh. Her teacher is aware of Lili's level and she is willing to help/let Lili move forward. Lili has started reading and it's simply amazing to see how fast the reading took off once she 'got it'. Fei constantly brings her things to 'read'. The freedom this must bring for them! The highlights of kindergarten so far have been big buddies, computer lab, music class and gym time. Lili was especially thrilled to tell me Monday that the whole class got to go on the bus and learn bus safety and get a ride and they didn't have to wear seat belts! Today's big thrill was her first fire drill. She knew the fire drill was coming (fire safety week last week) and she told Fei everything she learned. They were hollering at me the other day to come downstairs, I hollered down and they told me 'Mom, we smelled smoke, and we put our hands on all the doors but they're not hot, so we're all ok'. Gee, thanks girls but there's no smoke in the basement :)
Eric is back to work upstairs. Very exciting. One day, we'll all have bedrooms again. My new bathroom is quite spectacular so far. He has a hard time finding time to get up there and get anything done. He's vastly aware that life will stop for a long time after the baby gets here so he's aiming to have us in and settled this winter. For some reason he thinks there will be a referral this coming spring. I have no clue, but I'm thinking not for at least another year. Most people have stopped asking but for the few who do I always say 'in another year or so' eventually people are really going to wonder why it's always a year and the time frame doesn't change. The CCAA has matched up to Nov. 30. There are still 5 months of families ahead of us. It took six months to match Nov. 2005. I'm a rumor queen junkie. I go there every day, sometimes more often if there is something going on. Even Eric asks now and then what's up in the Chinaadopttalk site.
We really struggled with planning a holiday this year. I wanted to take a ferry to Skagway and go dog sledding on Christmas day. Lacie could have even come! The family decided it would be too cold. Then I tried to get us to Hawaii, too expensive...still saving for adoption #3. Then I tried to talk them into Mexico and Eric pointed out that I don't really like heat and beaches. So...then I tried to get them on a plane to Disney World, no go Eric still isn't interested in flying anywhere. If anyone else is thinking of going, the prices for Disney World trips are amazingly low in Dec. In the end the girls and Eric won out, we're repeating last years holiday, down to the same schedule for driving, same number of nights and same week in Dec. I stand firm that dog sledding was a WAY better plan. Oh well. Another year.
Avery introduced Lili and Fei to High school Musical and Lili has been talking about it since, I went onto the Disneyland site today to get the Dec. schedule and there is a stage show of High school Musical 2 on while we're there! Fei said last night the one thing she wanted to do first was ride the Monsters Inc. ride and sadly that one is closed for refurbishing. So, really great news for one and sad news for the other. I looked up tours and they have a new tour: sharpen your sleuthing skills as you work with your family to discover clues, hunt for hidden treasure and outwit dastardly villains. It's pricey but how awesome does that sound! One of the kids favorite things last year was Tom Sawyers Island, this year pirates have overtaken the island and their lair is over there! I can't wait to tell them that.

The girls have been getting lots of invites to Birthday parties and play dates. That really keeps my evenings and weekends full. I'm grateful they're making friends though :) We're off to see Max and Ruby on Friday, Max is a favorite of mine from Tree house so finally one of these shows might have some laughs for the Mom's. Halloween is almost here. We're hosting a fire for our FCC group next week. The girls and I are having fun getting organized for that. Those two are all about parties! They've chosen princess style witch dresses this year. Lili thought she'd like to be Superman again like last year but she said it was annoying having everyone call her Supergirl. The other day she was wearing a crown in town and everyone asked her if she was a princess and she'd look at them like they were nuts and say 'NO, I'm the King!', Fei was right beside her with hands on hips sounding indignant with 'No, Lili the King!'.
We celebrated Autumn Moon Festival with the FCC group and it was lovely. Hopefully we'll expand on that celebration more and more through the years. It would be nice to get more of our extended family involved. It was awesome to see the girls look forward to parties and get togethers around the Moon Festival. Their lanterns were quite stunning this year, I wish I'd taken pictures, but alas I actually forgot my camera! That almost never happens.
We went on our zoo trip in Sept. Pre having children I was against zoos. I don't know what I was expecting, but I ended up really enjoying it. The animals all looked healthy and happy to me. It was incredible to see several bears and wolves in a few minutes. The big cats were my favorite part of the day. The girls both liked the little monkeys best. I'd go again. We went the next day to the Sunrise picnic which was nice. We saw the other families from both travel groups so that was worth going over for. I was hoping to meet the one waiting family from our group. Not sure if I've ever mentioned on this site that there are only us and one other lady in our group 19. I also was hoping to see Marg (the lady in charge of China adoption at Sunrise) but she wasn't there.
I can't fathom what people write about on their daily blogs. It's been 6 weeks since I wrote last and they were very busy weeks and I've still didn't have that much to update.

Shelley, Lili and Fei's Mama
Aug. 29/2007
We bought a new to us trailer!! Very exciting. We got it on the 8th and the girls and I have slept in it since. The neighbors must be wondering, this great big house with 8 bedrooms and we're out in the trailer! Eric joins us in the driveway now and then. It's a 2001 Sportsmen, Ultra Lite four bunk with a queen slide for Eric and I. It was a long arduous hunt looking for a unit more family oriented but still an ultra light so we can continue towing with the Jeep. We've been shopping for a four bunk and have just had no luck, if we did find one it was too heavy and too expensive. We finally decided to give up and I told Eric to go ahead and buy a new dirt bike, which he did and he's very thrilled with it. Then a week after he got his bike a salesman called us (we'd been on his list for 4 months!) and he had a unit for us to look at. Horrible timing but the right unit, Murphy's law of course. I'm just getting over the buyers remorse now. It is really great having the girls in their own room and I love not having to put the table down and make beds every night!

We've managed to camp most weekends this season and this coming weekend is our last trip before school starts. Mom and I took the girls to Parksville on our new annual trip (this was only our second year) Lili and I wanted to take the trailer, but Mom and Fei wanted a hotel so we stayed in a very lovely hotel on the water. Which was very nice and relaxing. No clue where we're going next year, Mom is hunting for ideas already.
Summer brought lots of changes in our girls this year. They both grew over two inches. They went up a shoe size each. They're still in toddler sizes, 8 for Fei and 9 for Lili. Fei is 34lbs and Lili is 35lbs. Lili is still 2" taller. I think in the end they'll be close in height. They've both learned to swim with lifejackets on. They're not quite ready to try it on their own yet. We're just thrilled they were in the water this year instead of shivering on the beach with blue lips! Kissinger isn't the biggest lake in the world but it's a fair size for little girls and they swam across the lake, down the length and then around the island!! They're both getting stronger on their bikes. Fei can blow bubbles with her bubble gum and she can whistle. I finally sat with Lili and taught her how to tie laces and we set the timer for 10mins. and she had it in 7minutes! That was the last thing on the list of required skills for kindergarten. Which is silly with all the velcro and laces, hence the reason we finally got to it the week before school. They had a couple weeks the end of July where they were fighting with each other. Very alarming for Eric and I. Overall they've always gotten' along so well that we were shocked, dismayed and at a loss as to how to deal with all their fighting. I'm pleased to report that they are back to being friends and are happy to play nicely again, for the most part. phew, it was just another phase.




Fei, Madison, Lili and Haley in Kissinger Lake.
Fei is excited to start school next week, she has the comfort level of the same teachers in the same school. Lili is nervous and worried she won't like her new teacher. She tells us daily how much she's already missing Miss Trish and Miss Annette. We just got a call yesterday about Lili's slow entrance to kindergarten. She meets her teacher with us in a private meeting for 15mins. next Wed. Which is the same time as Fei's 1st day. So, I have to miss Fei's 1st day and Eric has to miss the meeting with Lili's teacher. A couple weeks ago the girls were telling long made up stories to me and I asked if I could tape them and they said no, so I asked if I could write them down and they said ok. I asked if I could put them on the site and they said no, but I'll tell a wee synopsis. Lili's was about 'The Terror of the Sea', there were men who went out fishing, it got dark and gloomy and they were terrorized by the terror of the sea, they ended up on land had to go into the dark and spooky forest and there were bad men chasing them that they had to fight. They were very brave men and were finally able to beat the evil. Fei's story was about Poppa and baby bear who were out for a walk with baskets, picking apples to make pie, with butterflies flying around their head, they got hot so they went back to the trailer and had a cool drink of water. Now, I ask you, could these two girls be anything less alike or what?! They certainly keep us entertained.
Huge congratulations to Kim, who had a baby boy on Aug. 10! They named him Bradley and he is too cute. We're all so happy for them. Fei was beyond thrilled with Bradley and so excited to get to hold him. She's asking tons of questions about where babies come from and is very confused about where our new baby is coming from. She says our baby is coming from China and I figure she's finally 'got it' but then a few days later she'll ask if our baby is in my tummy. We just heard that Auntie Lisa is pregnant (Eric's little sister, Madison's Mom) so this will give Fei another chance to figure out this birthing process that is so different from our adoption process :) So, also sending out another huge congratulations to Lisa and Rob on their big news! They'll likely have their new baby before we will. The wait just isn't improving.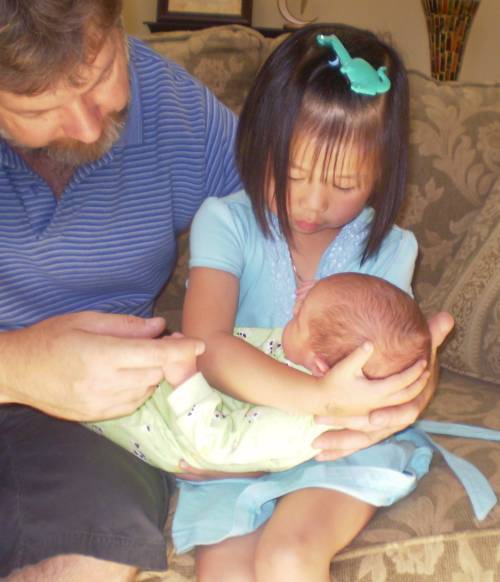 Fei is so ready to have our baby and to be a big sister.
The Savjords are coming over next weekend. Marty and Eric are going the annual Beerfest thing. Yuk. I'm thrilled that Cathryn, Jade and Lian will come for the weekend too so we'll have some girl fun while then men folk play. The weekend after that we're going to the Vancouver Z00 with a couple other FCC families, staying overnight and attending the Sunrise picnic the next day. We're busy, busy and having so much fun.
Nothing much happening on the house. Eric has taken the summer to play with us. He's done a fair amount of riding and he's really enjoying the new dirt bike. He'll have to endure a weekend of riding pedal bikes with us this weekend :) He thinks it's slow riding bikes with me and the girls in their trailer, wait until he has to move at their speed! Should be hilarious.
I'll have to try and get on here an let everyone know how the whole introduction to kindergarten works out for Lili. Two years ago, when I walked her to preschool, she was only 3 and looked at me and said 'Mama, I'm too little to go to school'. I still think they're too little!!
I'm adding this wee picture of our wee Lacie because it's just too cute! It's only August and she's already cold. Fei thought she might like to have a shirt on so she's wearing a doll shirt and we think she actually likes it!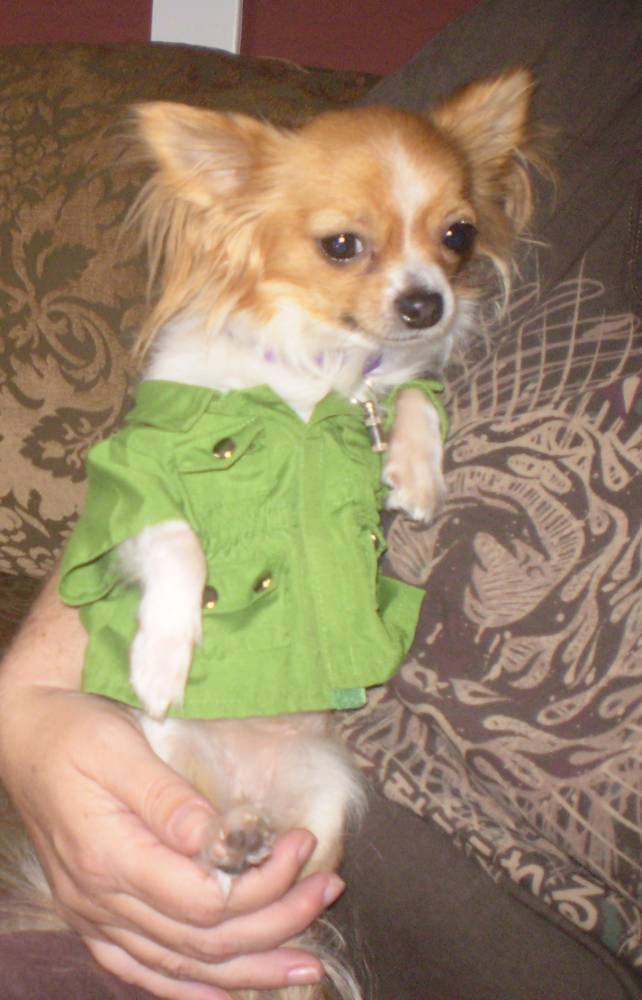 Love Shelley, Lili and Fei's Mama, Eric's wife and Lacie's friend
Aug. 2/2007
Not much going on with the adoption. Referrals are coming out right now and we think they've matched to Nov. 21/05. That still leaves 5 months and one week before us. Right now they're matching about a week of log in dates a month. Using that math we still have 21 months to wait.
We're off camping again this weekend at Kissinger Lake. The girls get so excited about camping now, they've been counting sleeps for over a week. It's also Eric's little sisters wedding this weekend, so we'll be coming in for that. Then we're taking Madison back with us to the campsite. It will be interesting to have three kids in the wee trailer. We've been looking for a bigger trailer this season. We've had our unit for 13 years and it's a bit cramped with two and we'd really like proper beds for the kids. The market is still geared to retirees so it's tough to find the right layout. Most family units have two single bunks.
Kim is off work now, her baby is due in 10 days. I miss her terribly already.
Big News! Lili can finally ride her bike. She is so thrilled. After an hour of riding she asked Eric to take her training wheels off. Too cute. Now they ride around and around the driveway everyday. They want to take them camping, but we're not sure they're ready, so we've promised to take them on the last trip before school starts. We'll be at Rathtrevor where there are tons of trails away from the road :)
Love Shelley
July 5/2007
May is through review!! We're through review!! Phew! Wow! We're getting another baby!! What a happy day! The girls thought it meant we had to go to China today, so they were relieved to hear we still had a lot more waiting to do.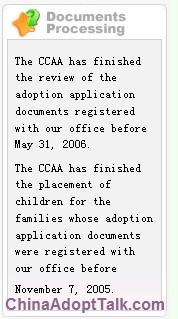 We're officially expecting!! I've always loved this next picture.
We're all enjoying the light schedule without school, music and gymnastics. We've been on two camping trips already. We went to Squamish and saw Thomas the Train (we all could have done without that) then we went to Whistler and rode the gondolas and open chair and played in the snow. Sun burnt playing at Alice Lake one day and in the snow the next. Wild. Then we went to Barkerville, we all really enjoyed that, the high light being panning for gold. We ended the trip with a fishing trip to Star Lake in Clearwater. Where Lili hooked herself in the back of the head. Yikes. She's been casting for two years, now she says 'I guess I wasn't ready after all Dad'. She still wants to go fishing again though.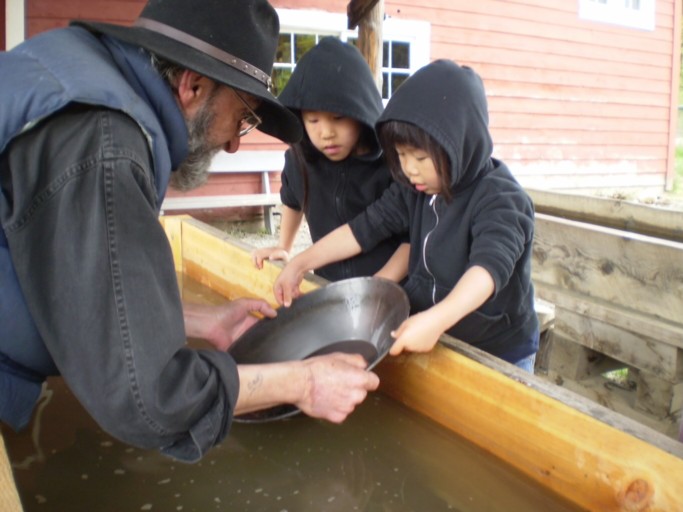 For the Canada Day long weekend we camped with friends and went to Horne Lake. The girls went cave spelunking with Eric, Fei still didn't care for it this year but Lili was thrilled and wants to go again. We also did a pirate treasure hunt which was a huge success. Here is a picture of 'the scurvy pirates, arrgh'. Pirate Lili is on the far left and Pirate Fei is on the far right.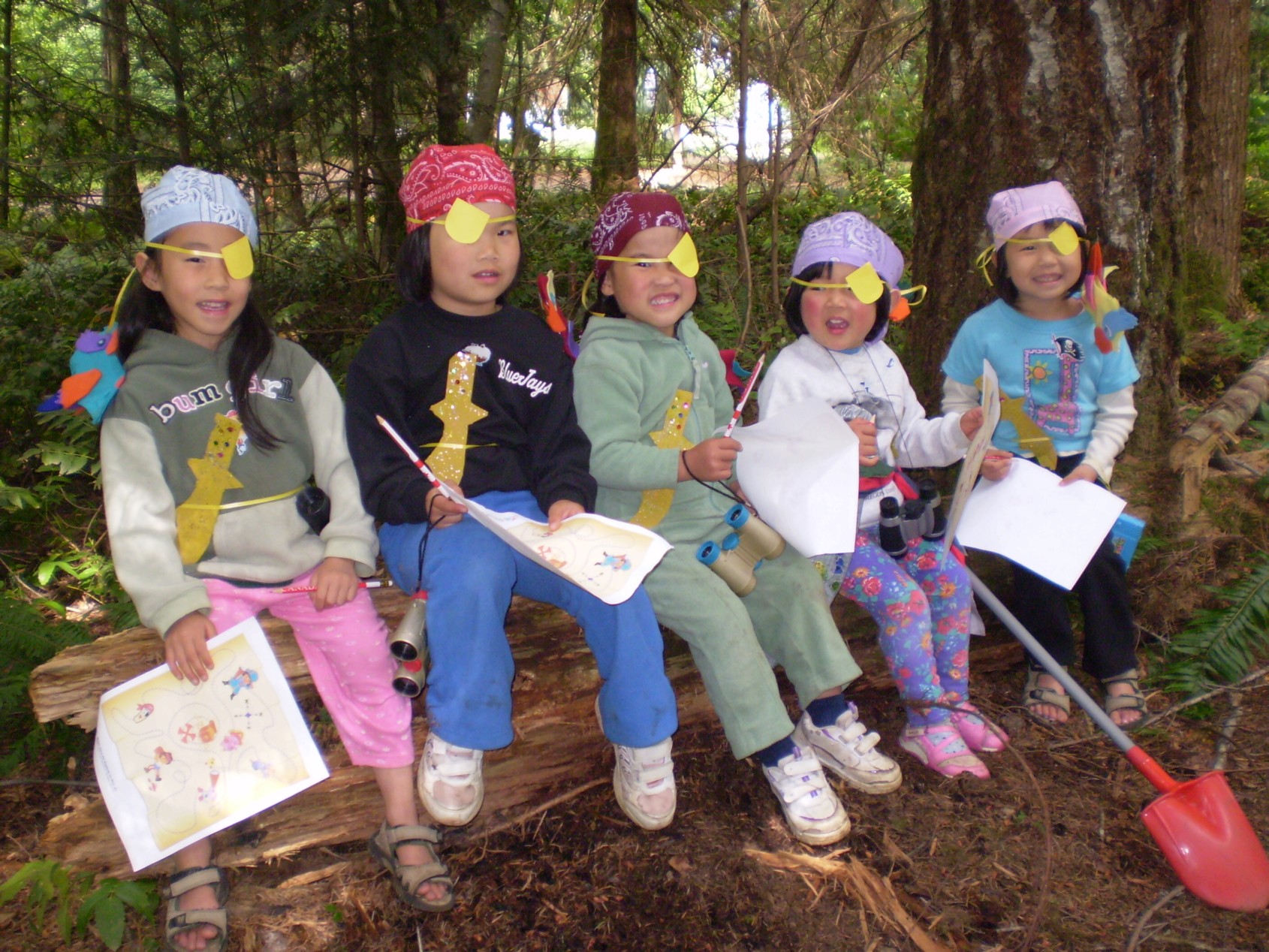 Aren't they the cutest pirates ever?!
Not so great an update re: Chrysti. She is a very young and immature 19, full of anger and attitude. The boyfriend had to go. Eric kicked him out a few times and finally just met him in the driveway and told him to pack what he needed and don't come back. Then Chysti decided to stay with him and left her cats, when we went into the appartment to feed them we found a lot of drugs and drug paraphernalia. We kicked her out too. It was ugly and I'm not posting pictures of the state of the appartment. There has been very little contact and to be honest Eric and I are sort of enjoying the peace. We're not sure about the amount of drugs she's using, I had to go online to parent sites to even figure out what some of the stuff was. She totaled two cars in two months and the rcmp tell us the boyfriend is dealing. We've told her we can't support her or her choices right now. We were massively unprepared to be parenting a teenager. We're waffling now and ruminating opening a door for limited contact. The girls miss her and ask often when we'll see her again. Clearly she is a troubled girl. It's hard to communicate with her, she lies a lot, well almost everything she tells us is a lie. Also made abundantly clear to us is that we made the right choice 14 years ago, her mother is a nut job and we simply could not have parented a child with her. It reached the point that the woman was calling me and complaining for hours about Chrysti yet didn't seem prepared to help in any way and just kept telling me she was an adult. Hmmm. I certainly hope we don't give up on Lili and Fei before they're ready to be on their own. I can't imagine the day that I won't care or won't want to know what they're up to.
Back to chatting about nice things. Both girls finished up the school year and both did very well. We're so proud of both of them. They love school, made lots of friends, got along with everyone and are ready to move on to next year. Lili will be going to kindergarten at Alex Aitken and Fei will be doing another year of preschool. They had their first music recital before summer break and all the grandparents made it. Once I saw the stage I thought for sure Lili would chicken out but they both performed with smiles on their faces. Again...an extremely proud moment. Yes, I did get a bit choked up :)
Eric is still poking away with his projects. The drywall is up in the bathrooms and the lino went down in ours. Next is trim and paint. Neither one of us want to be working right now, it's time to play for the summer.
Well, it's a good day, the sun is shinning, the family is well, we're off for a picnic and play tonight at Transfer Beach and WE'RE GETTING ANOTHER BABY!!
Love, Shelley, Mama to Lili, Fei and baby #3
March 12/2007
Big news on this update, Chrysti is back. Eric's 19 year old daughter from a previous relationship. Brutal court battle 14 years ago, we won in court but her mother wouldn't abide by it. Eric chose to walk away rather than send the police in to get Christy for his visits. So, we've always known where she was, but she just found him the beginning of Feb. She didn't know his last name, so sadly was looking for the wrong person since she was 13. So, in a few short weeks, she broke up with her boyfriend, met her birth father and step mother, found out she has two little sisters, got back together with the boyfriend, lost a job, got a new one, was in a car accident in the snow with her boyfriends car and then was kicked out of her Mom's house. Phew. The drama. Now they are living in our suite. There are some growing pains for all of us. It's a huge adjustment. We're glad to have her back in our lives and it's nice that we're in a position to help her get on her feet. The boyfriend isn't all that we would have hoped for. We knew from talking with our social worker that when she came looking it would most likely be at a time when she needed rescue. Even knowing this didn't prepare Eric. He's been blindsided and out of sorts. After all these years I can't get a read on how he's feeling. My guess is that he liked his life exactly as it was and this has thrown everyone around us. It's the other side of adoption. We've asked her to not involve us with her Mom or adoptive/step Dad and so far we've managed to avoid any contact with them, which is all good.
Lili was a bit out of sorts with the news of an older sister but she's ok now. She lost her oldest position in the family. Fei was simply thrilled from the first moment on. It's too soon to know how much contact we'll end up having with Christy. At this point she has jumped in and has easily taken on the role of daughter and big sister.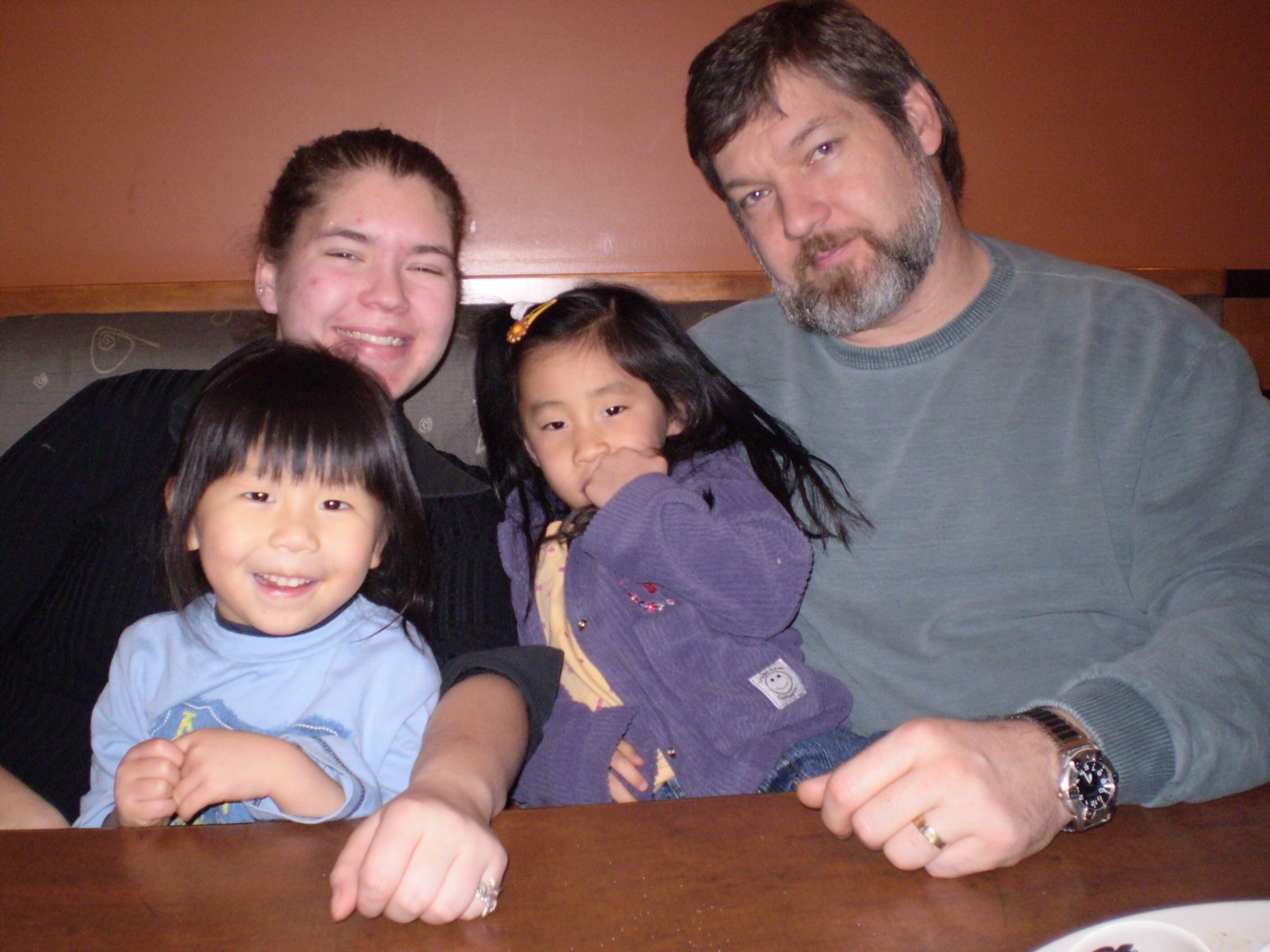 Since Christy and James are in the basement, we've lost our second bathroom, so we have to get going on getting a bathroom upstairs. This might be the push Eric needs to get going on the home renovations again :) We went to Home Depot yesterday and bought everything for the girls bathroom. My Mom is taking the girls tomorrow so Eric can start plumbing. He hates plumbing, likely one of the reason's he's been procrastinating on this project.
Lili was registered for kindergarten! Yikes. She was just a wee baby in my arms a few days ago. She is excited about her new school and she gets to go meet the teacher beginning of April. I just called the school and they only got 27 kindergarten registrations, so right now it's looks like 7 of the kids will be in a K/1 split. Which would probably thrill Lili, she seems to gravitate to kids a year or so older than her. Fei was registered for three day preschool next year. She's doing so great in school. They both are. We're so proud.
We made it through the 4th and 5th Birthday parties. Fei had a Zoe ballerina party and Lili had a green frog party. Both of them were at home with about 18 kids at each. Phew. Eric teases that the baby's Birthday will be in April and our whole focus for three months will be the kids Birthday parties :) I still ask the universe every day for an older child and now I'll add with a summer Birthday. For everyone who's seen 'the secret' you'll laugh when I say that just asking for an older child wasn't specific enough, Christy is a bit older than I was really hoping for, hee hee.
On the work front, we're still in Chemainus, no plans to move today, working from home isn't an option today. Drat. We're quite busy at work these days. Kim is pregnant and due in August. We hired a fellow named Tom and Kim is training him now, he'll be taking over her job and helping out in the yard.
Rumors still abound about the review room. We are confident that April and May are in review now. CCAA has reviewed through March 22/06 and Matched to Oct. 24/05. CB says the wait will reach 24mo. Our agency doesn't give guesses. We've waited 10months now and we're clearly no where near. We're thinking spring of 2008 for a referral. The girls are talking less and less about their new sister. The wait is simply too long for them. They think she is never coming. I'm handling this wait much better than the first one, it is tough watching the end line get farther and farther away though. For now I'm going to focus on how great this summer will be with two older little girls. They both got bikes for their Birthdays and they are gung ho to get camping. They both are talking a lot about the Gerry's Rangers program that's at the Provincial campsites. Perfect for their ages. Hopefully the travel trailer will limp through another year. I still love it and so don't want to buy another one but it's time.
We went to several CNY year events this year. The girls are starting to look forward to CNY and were very interested in the traditions. We did about 100 red envelopes this year. Both of them had a party at school, Eric sent in chow mein for both parties, I sent in a dragon craft and the kids handed out the envelopes to their friends. We also did two FCC events, one in Duncan and one in Victoria. The picture below was actually my Birthday, we're sitting with the Foo Dogs Eric and the girls got for me. They now guard our front entrance.
Lili and Fei's Mama, Shelley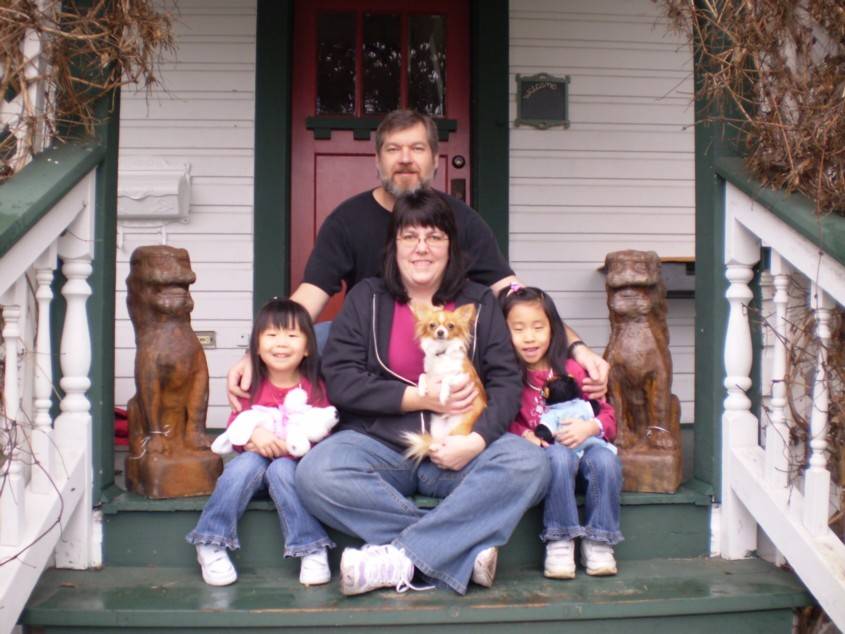 Jan. 22/07
We have heard through the rumor mill that some folks with May 8/06 log in dates have been asked questions, which means we are likely in review. With all the media uproar most everyone has likely heard already that the rules are changing in China adoption. The new rules were announced Dec. 8 and will come into effect on May 1/07. We think we're fine. Even if they step up the new rules we should still be ok. One more thing to add to the list of things that make us nervous. Some families are really grieving around us and we're so sad for the families that can no longer apply to China. We're also extremely grateful that we were able to create our family with China and we'll just remain hopeful that our next baby will come home from China too. Our friends Susan, Francis and Olivia (from Fei's adoption trip) just got their referral for their second baby, a little girl 10mo. from Guangdong, she is a sweetie and we're so happy for them.
The girls are really excited about turning 4 & 5 and they spend a lot of time chatting about it. They are old enough this year to understand that they'll both be 4 for three weeks and they think that's really funny. They get asked daily if they are twins and they get really tired of that question so we've told them they can have fun with the question for those three weeks. They wonder why everyone asks them if they're twins and I tell them it's because it makes people happy to see twins. I actually find as the kids get older, people aren't asking so much as assuming. It's not as easy to tell which one is younger now that Fei has lost her baby face. They are very close in size, Lili is still 2" taller but in my opinion they don't look much alike at all.
Shelley, Eric, Lili and Fei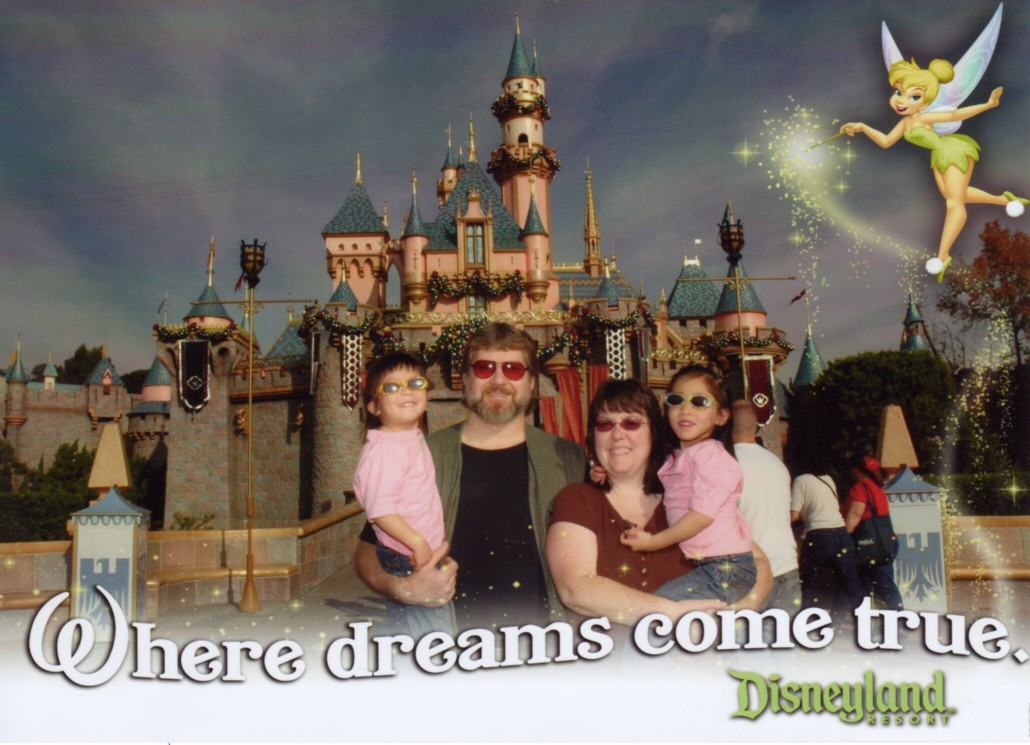 I realize it's a Dec. 2006 photo, but I love it, so here it is in the beginning of 2007.